Luton's newest Estate Agency is up and running and charging into the future! A smart move, given the town has just been awarded the 'Best Commuter Hotspot for 2018'!
Benjamin Stevens Estate Agents opened in Luton in November 2018. It is a 'Hub' which is ultimately different to your traditional High Street shop-front Estate Agent.
This is the company's second Hub, which is based in the centre of Luton above The Mall. They have experienced local Negotiators heading up the team and are expanding week by week. The sky is the limit for 2019!
Benjamin Stevens, which was established 15 years ago, already has successful branches in Bushey, Hertfordshire and Edgware, North West London, so you may be wondering why Luton??
That's easy to answer! Luton average house price is 60% cheaper than London, and with only a 24 minute direct train journey (running 24 hours a day) into the country's capital, and outstanding road connections, it's not hard to see why this vibrant town is attracting so many commuters, as well as first time buyers.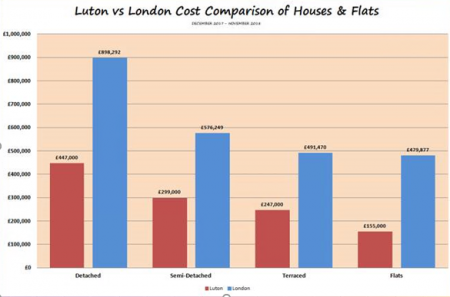 Property is also selling fast with the average priced property being on the market for only 144 days (on average).
Houses tends to date from the 1920-30s and include many examples of spacious family homes. Over the next 20 years there are plans to regenerate the town centre as part of a massive £1.5 billion investment.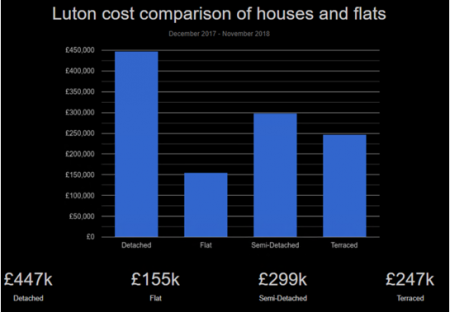 Benjamin Steven's ethos is to sell and promote the areas that they cover. They work closely with local businesses, charities, schools and other organisations, with the belief that by showcasing all that the local community have to offer, it will in turn draw new people into the area, as well as prevent people moving away.
Luton has a bustling city centre with a huge varied shopping mall filled with all the big named favourites, but unusually, and refreshingly, a host of local independent businesses.
Luton Airport was recently voted best of the six serving the South-East, and is undergoing a £110m expansion project, to increase capacity.
There are array of restaurants, pubs and bars to keep the town alive at night time as well as a Bedfordshire University campus which is a big pull for the buy-to-let market.
Schools in Luton are another major highlight. Among the best is Hillborough Junior School, which received the top rating from Ofsted.
Benjamin Stevens priorities are Customer Service and Professionalism. They aim to ensure they are experts in all of the areas they cover and can deliver their clients a personal service, that has partly been lost over the years.
The reason the company have made the decision not be based on the High street is that by having an office base, they can cover as much as ten mile radius, unlike High Street branches which may only cover 3 or 4 miles. Each negotiator is responsible for covering a small part of that radius. They know their sub-areas inside and out, and can spend their time doing what they do best, which is finding properties to buy, sell, rent or lease.

It also gives staff freedom to not always have to be completely office based and also become their own boss. It's a much more customer-focused, service-oriented, forward-looking operation. The team are incredibly keen to be galvanised and motivated into presenting something new to the public.
The Benjamin Stevens Luton team have been inundated with people looking for free evaluations for their property, as well as people looking to buy, rent or lease a property. Crucially they have had a large response of people wanting to join the Benjamin Stevens team. We offer free training and can give flexibility and great opportunities for those wanting to have a successful career in the property industry.

For more information on anything property related, give us a call today on 01582 485 531 or email at luton@benjaminstevens.co.uk or log on to www.benjaminstevens.co.uk